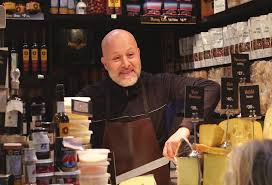 Hospitality magazine has a good article on making small business accessible. It recommends thinking about access and inclusion from the start, not as an afterthought. And it isn't all about wheelchairs. Being able to read the menu without getting out your phone flashlight to see it is a start. While Braille menus would be great, reading the standard menu to someone who is blind and sitting alone is essential, not just a courtesy. The assistance dog is not expected to read it. And this isn't just about the law so we need more insights and less afterthoughts. 
"While many businesses adhere to protocol, they still aren't doing enough to truly welcome customers with a disability. A ramp might allow access to the premises, but is there enough room for diners to move around freely once seated?" However, some developers are thinking ahead.
"The Lendlease team took into account everything from footpath width and the design of entryways to countertop heights and amenities when building the King Street precinct in Brisbane.
At the end of the article, Accessibility shouldn't be an afterthought, is a list of organisations that can help businesses improve their customer service and repeat business. City of Melbourne has an infographic on Good Access is Good Business. It has the key points on a page. However, infographics are not accessible to people who use screen readers.