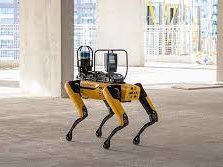 Could Spot the robot dog change the way buildings get made? Spot explores and senses spaces and captures the data. This kind of robot is used in places such as oil and gas sites where safety is an issue. But now Spot has become a part-time 'architect'. Perhaps this robot will be deployed to check out accessibility of buildings too. Who knows?
Architecture firm Forster + Partners Applied Research and Development group used it in the development of Battersea Power Station. By monitoring the construction process each week, architects can see if the physical building is deviating from the plans. The potential for cost savings are obvious.
The robot also monitors completed and occupied buildings to see how space is being used. But humans have to get used to Spot because paying attention to the robot interferes with the scan and data collection. 
The FastCompany article has a lot more information and the videos are fascinating and show how the robot works. Let's hope that accessibility and universal design are programmed into the next iteration of Spot. 
The title of the article is, This robot dog is changing the way buildings are designed, constructed, and used.