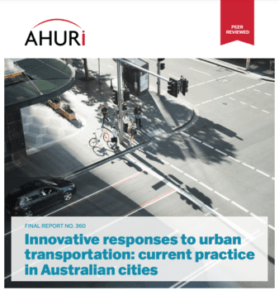 There's a long gap between new ideas in transportation and when passengers get to experience them. And there are lots of stakeholders within transport systems. Regulators, designers, manufacturers, policy-makers, local and state governments and let's not forget the travelling public. With so many stakeholders and things to think about, accessibility and inclusion could get missed. So will transport innovation be more of the same?
Apart from interstate trains and buses, public transportation systems are the responsibility of each state and territory. This poses issues of inconsistency, particularly in relation to accessibility. The Australian Housing and Urban Research Institute (AHURI) recommends greater coordination and national goals for future transport systems. It's good to see accessibility and inclusion in the mix. 
Different stakeholders want different things
Regulators want to see reduced emissions and congestion, increased efficiency, and greater accessibility and social equity.

Transport providers want greater efficiency, capacity and market share. 

Passengers was increased usefulness, accessibility, inclusivity, comfort, convenience and safety. Then they want reduced price.
Innovation is in the eye of the beholder. The drivers for innovation were identified as, social and environmental, what passengers want, resource constraints, regulatory gaps and political imperatives.
The AHURI research reviews international practice in the context of Australian conditions. Policy discussion in Australia has not moved on from practices set in the late 1990s. Innovation is about emerging modes of transport. These include trying to lessen car dependency by improving public transport, and integrating transport nodes with activity centres. 
The research paper goes on to discuss policy development options, issues for institutions, policy gaps and opportunities, and the role of the state in transport innovation. 
The title of the report is, "Innovative responses to urban transportation: current practice in Australian cities" There are two documents – the 12 page executive summary and the 130 page full report. 
The research questions
Four research questions guided the approach:
1. How are large-scale processes of technological, economic, social and environmental change affecting travel patterns and transport systems in Australian cities?
2. What strategic approaches to configuring infrastructure, technology, regulation and design are Australian metropolitan transport programs and policies adopting?
3. How do Australian metropolitan transport programs and policies compare to relevant international examples in terms of strategic approaches to technological, economic, social and environmental changes?
4. What forward positions should Australian metropolitan transport programs and policies consider in response to drivers of major transport system change and what further research is needed to inform this positioning?