All aspects of urban design and development are undergoing technological change.  The pandemic has increased the speed of  some changes. For example, online shopping and parcel delivery, working from home and demand for green open space. The University of Oregon's Urbanism Next Framework draws together key issues in answer to "What's next for urban design?"
The three page framework lists the forces of change as new mobility, e-commerce, mobility as a service and urban delivery. These impact land use, urban design, building design, transportation, and real estate. The infographic below shows the kind of questions designers and policy-makers need to ask themselves. Click on the image for a better view of the infographic.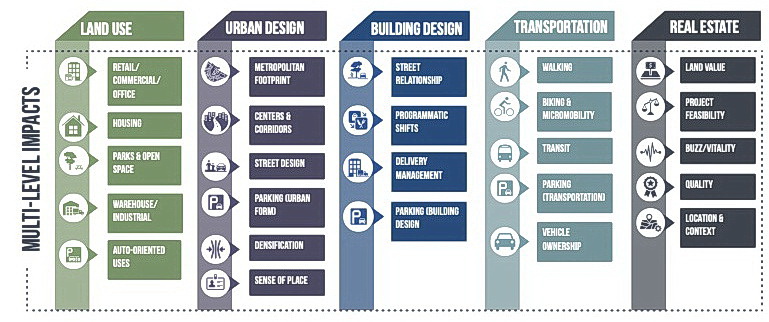 The framework poses key questions for the future. For example:
How will e-commerce impact the demand for industrial land?

How do we protect open space under pressure to expand cities?

What will happen to sprawling city footprints when people don't need to live in cities?

How will the need for fewer parking lots impact urban form?

How can the interactions between pedestrians and vehicles be managed?

Will new mobility reduce the demand for vehicle ownership?

What will draw people to places in the future?
The Framework says all these things matter for equity, health, the environment and the economy. So it is up to designers and policy makers to remember to take a universal design approach and follow co-design processes. 
From the introduction:
"One of the key challenges cities face is understanding the range of areas that are being affected or will be affected by emerging technologies, and how these areas are related. The Urbanism Next Framework organizes impacts based on five key areas— land use, urban design, building design, transportation, and real estate—and relates those to the implications they have on equity, health and safety, the environment, and the economy. It then considers what we should do to ensure that emerging technologies help communities achieve their goals.