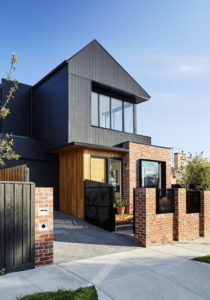 Designing an accessible home on a narrow lot can be done. An architectural group in Melbourne were faced with this situation and were able to provide accessibility on the ground floor. The site was tight – approximately 11 metres by 19 metres. The article in Architecture and Design has few details of the access features other than "spatial amenity". However, it details the materials used and explains the design aesthetics.  It was interesting to note that the local council was not supportive of the development in the early stages because of the look of the home. Good to see it featured in an architectural magazine. Perhaps next time the magazine will point out the accessible features – even if they are invisible to the casual observer. Nice pictures. 
Note – home elevators are becoming more popular as a viable alternative to moving house. Designers should consider this as a potential later adaptation and make provision in the initial design.
Picture courtesy Atlas Architects and Architecture and Design.
If you have a home that is accessible and universally designed, let Australian Network for Universal Design know about it.