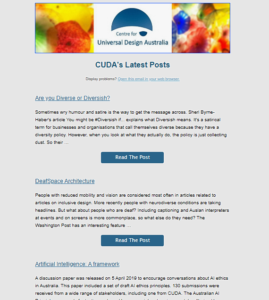 CUDA's latest posts archive has the most recent newsletters in the links below. They are in PDF format. Not signed up? Scroll down the left hand menu of the webpage and find the box to subscribe.
Each newsletter has the latest items posted on this website each week. You can also find all the past content in the general archive section by month, or directly by searching for a topic using the search facility on the website.
There are more than 1,100 items across a wide range of topics. After all, universal design covers everything!
Newsletter of Latest Posts 30 May 2023
Newsletter of Latest Posts 23 May 2023
Newsletter of Latest Posts 16 May 2023
Newsletter of Latest Posts 9 May 2023
Newsletter of Latest Posts 1 May 2023
Newsletter of Latest Posts 26 April 2023
Newsletter of Latest Posts 18 April 2023
Newsletter Special Editions

– topic specific
Summer Editions 2023
Gender diversity and inclusion
Summer Editions 2022
The Outdoors: parks and playspaces
4th Australian Universal Design Conference
UD2021 Conference Papers Special Edition #2
UD2021 Conference Papers Special Edition
Summer Editions 2021
Workplace diversity and inclusion
Summer Editions 2020
Travel, transportation, tourism
Older newsletters
UD2022 Conference Special #3, 4 October 2022
UD2022 Conference Special #2, 27 September 2022