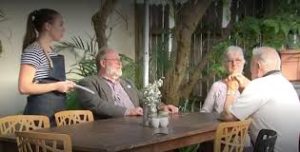 Kiama Council in NSW has taken steps to make their community "Dementia Friendly".  The aim is to keep people connected to family and community and avoid early entry into the residential care system. The SBS News channel showcases this example on their online news page. There is also a video of the story (without closed captions).
This is very topical as the Royal Commission into Aged Care continues. "Dementia researcher Professor Richard Fleming of Wollongong University says authorities should also realise that "the built environment can be used as a form of restraint". 
The news story also discusses the role of "dementia villages" and whether they are the right way to go in the future. Perhaps the first step is to talk about people rather than patients.
This initiative would also help people with other cognitive conditions.