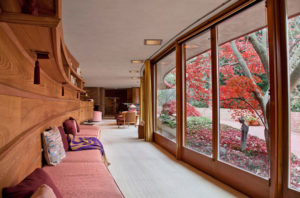 Houzz online magazine has an article about a 1952 Frank Lloyd Wright home that they claim is a model of universal design. The Chicago home was actually designed specifically for a "disabled homeowner" – a wheelchair user. This kind of presentation of universal design confuses people and adds to the notion that universal design is for people with disability and not a mainstream idea.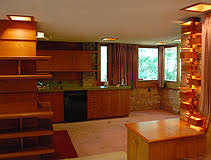 The article by Gwendolyn Purdom describes the single-storey construction, lowered doorknobs and light switches, wider doorways, drop down cabinets and sufficient turning space for a wheelchair. Pictures of work benches with nothing below are the wheelchair obvious features. Apparently the features blend seamlessly into the home. The article goes on to provide sound advice to others such as thinking about universal design from the beginning of the design.
The original owners kept the home exactly the same until their death in 2012. This home has been open to the public since 2014. Several pictures illustrate the article. I doubt Frank Lloyd Wright took any of these design features into his future designs to make them mainstream. This was most likely a one-off. Frank Lloyd Wright designed the furniture too.
Thanks to Richard Duncan for finding this item.