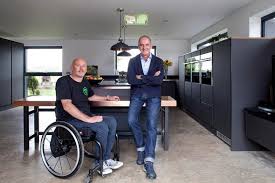 The UK television program Grand Designs hosted by Kevin McCloud rarely shows any home that has accessible elements unless it is specifically for a client with a disability. On the Grand Designs Facebook page, McCloud visits a kitchen that almost anyone would admire. He wheels himself around the kitchen with the owner and shows some fascination with the design. The owner said, "It's the environment that makes you feel disabled". A fair call. Have a look at the features and see what you think. 
There is a longer newspaper article that provides more detail. However, all does not end well. Apparently the owner and his wife decided to separate. Consequently, another newspaper article has the home for sale a month after it was completed. But this one has lots of pictures. It just looks like a spacious home with nothing "disabled" about it.
The real issue is that wheelchair users are left with no choice but to build to their own specifications because there is nothing available on the market that will remotely match their requirements. That is, if they can afford it. The last article on the sale also shows how building a new home is no easy road and takes it toll on relationships. That's regardless of any kind of ability or disability.
The video below is courtesy the Daily Mail.