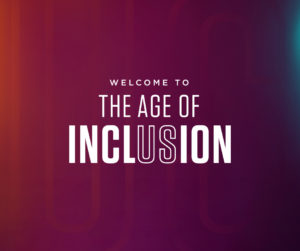 What's inclusion about? It's about us – all of us. Policy talk about inclusion could lead us to believe we are in the Age of Inclusion. But is it happening or is it just words? Although people agree inclusion is a good thing, making it happen is another story. The public sector has got to grips with the issues and is guiding the way with the Age of Inclusion Champion's Kit. The emphasis is on "US" in inclUSion. 
The online Kit comes in sections: Learning about disability, Making the workplace accessible, and How to lead change in the workplace. The Hiring Manager's Toolkit covers the recruitment process and helping new staff get started. There's also a section on anti-discrimination laws that every manager should know. 
The Age of Inclusion Champion's Kit has five key elements, one of which is the role of social media:
Sharing The Age of Inclusion Campaign with your networks

Showing your support on your digital and social channels

Promoting Inclusive Recruitment and Career Pathways on social media

Promoting Inclusive Work Cultures on social media

Promote Accessible Workplaces on social media
Kit also has links to videos with and without audio description, and pro forma social media posts.