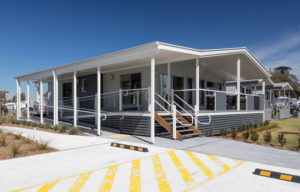 Lake Macquarie City Council is taking accessible holiday accommodation seriously. Last year they began a project to install four accessible cabins in their holiday parks. Council tested the market for the new design and the feedback was integrated into the design. Some of the elements that were considered important, especially for wheelchair users and their families were: 
Swipe card access

Wheelchair access to both bedrooms

Larger switches

Swing top bins

Fridge above the freezer

Variable height clothesline 

Larger decks and accessible barbeque area. 
Garry Ellem from Lake Macquarie City Council is one of the speakers at the next Universal Design Conference in May next year.  His abstract gives more information about the project. More work on making the whole Park more accessible means that these cabins won't be islands of accessibility. The cabins were completed this year and the pictures on the Council website show the result. This is also a good example of how information should be presented for wheelchair users to know just what is, and what is not, included. Saying something is "fully accessible" is of little use – it might only have a ramp and nothing else.
It should be noted that these are bespoke designs specifically for wheelchair users. However, there is no reason why non-wheelchair users can't use them.