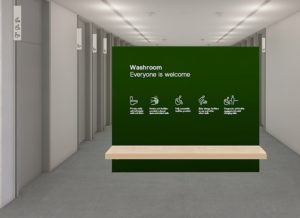 What does washroom and change room design have to do with social justice? Darryl Condon answers this question in a Pools and Leisure Magazine article. He has a good grasp of all the relevant design issues across the diversity and inclusion spectrum for universally designed leisure facilities.
The advice and information is explained using a universal design approach, which makes it relevant to other public facilities. Condon lists five design strategies that designers can take away. At the end of the article he advises that with any new facility, a diverse group of users should be consulted. A very thoughtful article in this international magazine published via issuu. It has other articles of interest to designers and architects.
The article, Designing for Inclusivity: Strategies for universal washrooms and change rooms in community sport and recreation facilities, is on page 48. Pictures and graphics are a nice addition.
The article begins: "What does washroom and change room design have to do with social justice? A great deal. As architects, we must consider the social impact resulting from all aspects of our work. Universal washrooms and change rooms are increasingly crucial in the design of recreation and sport facilities and are one element in our approach to more impactful design".
This article is also on Linked In and probably easier to read than the issuu version. The picture is from the Linked In version. The social inclusion aspect is also discussed by Katherine Webber in Toilets, Taboos and Design Principles.