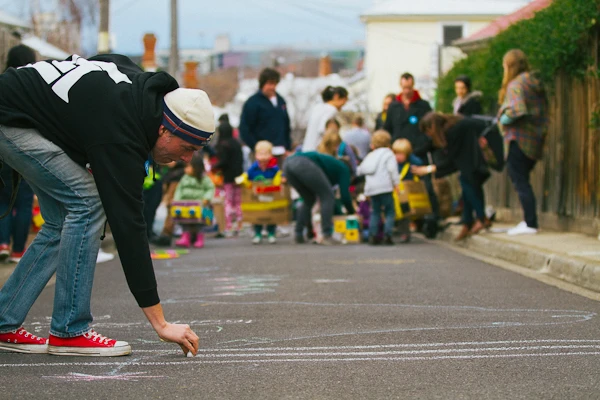 The play street movement is taking off and councils across Australia are starting to take an interest. Play streets are run by residents for a few hours at quiet times of day. They can be weekly, fortnightly or monthly, or even one-off events. Regular times bring the best results for creating connection, and it's all explained in the 1000 Play Streets Toolkit. 
The aim of the 1000 Play Streets project is to reclaim quiet residential streets as places for neighbours of all ages to connect. Older Australians will remember playing in the street as they were growing up and this is a way to recapture some of that value. But now neighbours need help to make it happen and this is where local councils come in. 
The Toolkit is specifically designed to provide planning advice to local governments that want to build local communities. It requires the approval of temporary street closures and support for neighbourhood groups.
The overall aim is to create a play street movement that develops organically through citizen action. The Toolkit is for local government to help them on their Play Street journey. 
There are several supporting documents to the Toolkit including case studies.

The online Toolkit links to online case studies, templates and other resources. It includes issues such as traffic, public liability and a risk benefit assessment.
There is a video of the national launch of the Toolkit and the Play Street movement. There is also a slideshow with the key elements of how and why the project is important. 
Frequently Asked Questions provides answers to the typical questions councils would ask. This document provides similar information to the Toolkit, but in a different format.