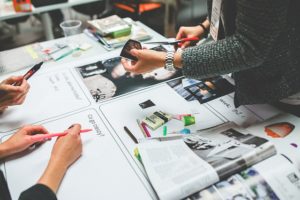 Finding out what older people might want and need in their daily living experiences takes more than just asking them, especially if they have a cognitive impairment. A recent study found that using creative methods, such as drawing and creating models, older people can express their needs in a tactile format. This also creates rapport with designers who can then devise better mobility, dining and leisure activities. This method is enjoyable for all participants.
The title of the article is, Participatory Design with Older Adults: Exploring the Latent Needs of Young-Old and Middle-Old in Daily Living Using a Universal Design Approach. You will need institutional access for a free read from SpringerLink.
Or ask for a free read through ResearchGate.
Abstract: In 2017, global population aged 60 years or over reached nearly 963 million, becoming twice the figure recorded in 1980. Not surprisingly ageing population will continue to accelerate due to continuing decline in fertility and improvement in survival in major diseases. When people who are suffered from cognitive or physical impairment, they often feel alone and experience different degrees of social loneliness. This paper discusses co-design experiences with various stakeholders to explore latent needs of older persons in their daily living using a universal design approach. Through iterative use of creative methods, freehand sketching and physical models, older adults can express their needs in a more accurate, tactile format. Findings reveal that commonality of interest among older persons are important in building rapport among other participants. It also helps designers develop assistive design related to health care, mobility, dining and leisure activities involving older persons, benefiting society as a whole.