Discussing universal design and inclusive practice helps individuals to understand the concept of inclusion. But the real change is needed in organisational culture. Everyone has to have the same universal design mindset.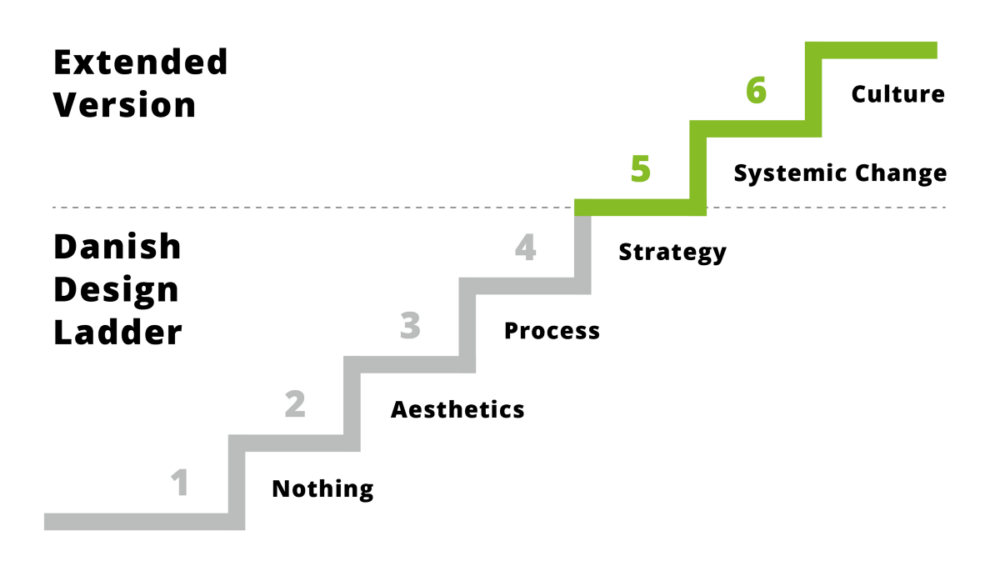 For an organisation to take inclusion seriously, it needs to be embedded into the culture.
Design isn't just for products and websites. Design thinking can also be used to design business strategies and operations. It shapes the brand and business concept. 
The Danish Design Ladder is useful for understanding the power of design within organisations. Universal design thinking comes onto the ladder at Rung 3 – Design as a Process. 
Rungs of the Danish Design Ladder
Rung 1 Non-Design:  Design is invisible, product development is done by untrained designers. The user or customer has no part in decisions.
Rung 2 Design as Styling:  After the product is developed it is given to a designer to make it look nice. 
Rung 3 Design as Process:  This is where design is not the result but a way of thinking. Customers are now the focus of the design process. 
Rung 4 Design as Strategy:  Design is embedded in the leadership team to shape the overall business.
Rung 5 Design as Systemic Change:  Design is a way of changing systems to solve complex social problems.
Rung 6 Design as Culture:  Design is a common mindset, as a way to innovate, a way to listen and and a way to lead. 
The Brisbane Olympic Games are less than 10 years away. There is talk of wanting them to be the most accessible games ever. The last three rungs of the Ladder, universal design as strategy, change and culture, will be essential for this outcome. 
An article by Bryan Hoedemaeckers, Are you getting the most out of Design explains more on this. The Ladder is a good way of conceptualising how universal design thinking can be woven into the fabric of organisations. 
Australian researchers used the Danish Design Ladder in an action research project. The title of their paper is, Climbing the Design Ladder; Step by step.  The researchers discuss other intermediate "steps" for bringing about culture change.