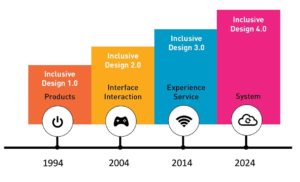 Inclusive design is about desirability.  Accessibility is part of it – useability for everyone. The concept of inclusive design in UK had a focus on product design, but it has moved on – evolved. A short film, Evolving Inclusive Design explains how the concept has evolved from product design to web design, to service design and then to system design.  
In the video Hua Dong emphasizes that inclusive design is important for everyone. She says: "As designers, we can design with people for people, design with disability for ability, design with old people for young people and design with diversity for unity."
Hua Dong explains the concepts in a straightforward way in the film. In the earlier years the focus was on user capabilities. It then moved to an interactive focus and design became about the process of using things. User diversity introduces concepts of user experience. The video is 14 minutes but worth the watch. 
Although there is a particular focus on product and service design, many points can be transferred to the work with architecture.
The video is a great resource for design students and people new to the concepts. 
Inclusive design and universal design the same goals. However, there are some who would argue nuanced differences because they come from different histories. Regardless, we need to get on with the job rather than debating terminology. Besides, if universal/inclusive/design-for-all is also about diversity, we can have diverse ways of expressing the concept. The key is to design for the diversity of the population.