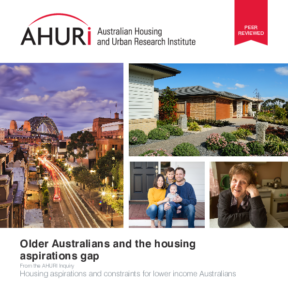 We expect to grow old, but because we don't aspire to grow old, we rarely plan for it. "I'll worry about it when the time comes" is a usual response. A report from AHURI looks at the housing situation for older Australians and some previous research is confirmed.
Most respondents felt their current home would suit them as they grow older. Eliminating steps is obvious, but what about other features? Generally, older people would like to own a detached dwelling (69%) with three bedrooms (50%). Those in the 75+ group think that a two bedroom apartment is a good idea, probably because they can eliminate steps. Most importantly, they don't want to be in the private rental market.
Older Australians are not planning ahead. If they are, they lack information on how to go about it, what to look for, and what their options are other than age-segregated housing. A significant proportion of respondents hadn't thought about planning ahead for their living arrangements. 
Plenty of material in this report for anyone interested in housing and older people. Title of the report is, Older Australians and the housing aspirations gap. There's a full report and an executive summary. 
 Editor's comment:  Although home owners said their homes would support them in later life, this might not be an objective view. With a desire to stay put, can we rely on their self-assessment when they have so much emotional and financial investment in their current home? 
But do all older people want to stay put?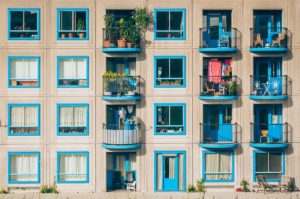 It is often said that older people want to stay put, but this may not be the case for everyone. A study from Berlin, Germany looked at this issue in depth. While some of the findings might be specific to Berlin, the article raises interesting questions.
The researchers found that social class, gender, age and migrant history were not necessarily measures of movement behaviour. The top three reasons that emerged were: to have a smaller apartment, an obstacle-free apartment, and to have to a cheaper apartment. 
The title of the article is, Why Do(n't) People Move When They Get Older? Estimating the Willingness to Relocate in Diverse Ageing Cities.  This is an open access article in Urban Planning journal. The results indicate decisions to move are multifaceted. Older adults are not an homogeneous group with the same needs. As with other studies, older people want the same things as younger people. 
From the abstract
Two of the dominant processes shaping today's European cities are the ageing and diversification of the population. The living environment around the place of residence plays an important role in the social integration of the older generation. 
There is a peak in the decisions to move at the age of 65-75 and a drop in the inclination to move among people over 80. Our study suggests that variables other than classic socio-demographic data, such as apartment size, rent, social networks, and health, are a starting point for achieving a full picture of older people's movement behaviour.