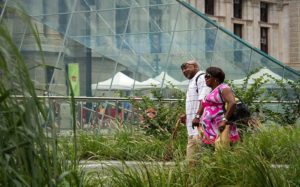 Poorly designed spaces limit the number of people who can use them – they might look great, but that is not enough. Everyone should benefit from great civic space. The American Society of Landscape Architects has a great guide to Parks and Plazas. The online guide includes good case studies and easy to follow tips. Here are a few of the points covered. See the online guide for the rest. 
Connections to the street: Parks and plazas should meet the street at grade, ensuring that anyone can enter the space. When a grade change must be addressed, integrated ramps and stairs create a unified experience regardless of ability. Safe materials that are, tactile, not slippery when wet, and provide high contrast should be chosen.
Clear identity: While maintaining a seamless entry from the street is important, creating a space separate from the street gives identity to the space. Trees can buffer noise and other sensory information from other areas.  
Providing options: Public places serve many different groups of people, with differing needs. One solution is not going to accommodate everyone, but the scale of many public places creates room for spaces that give visitors different choices and opportunities.
Ease of access to restrooms: Bathrooms that are easy to locate allow families with children, people with disabilities, and older adults to readily use facilities that everyone needs. Placing bathrooms near streets and along major pathways of parks makes locating restrooms easier if the need arises. Restrooms should be clearly indicated on multi-sensory signage throughout parks and plazas. 
The guide is supplemented by What is a great civic space? which looks at benefits of inclusion and the identity of place.