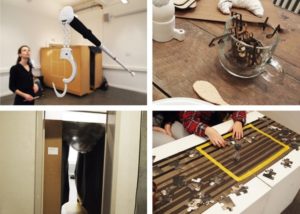 What happens if architecture, interior design, engineering and product design students spend a week together to investigate the design of the built environment by making it impossible to use? By turning design upside down and deliberately creating designs that were impossible or difficult to use, students learned about universal design. This method is known as 'critical design'.
A paper by Ann Britt Torkildsby describes a week of critical design workshops that provoked reflection, awareness, empathy and action among the next generation of designers involved in the built environment. The paper provides details of the workshops and the processes, and the outcomes for the students and their designs. The picture above shows four of the designs discussed in the article.
The students felt the workshop was a great learning experience. Although the workshop method needs some perfecting, it shows that students approach universal design in a more thoughtful way. 
Editor's note: I liked the narrow doorway with a sticky floor that made entry difficult. The designs went on exhibition so that others could experience first hand the difficulties and frustration people with different disabilities might have with a design. Critical design is a real challenge to design problem solving. 
The title of the paper is, Empathy Enabled by Critical Design – A New Tool in the Universal Design Toolbox. The article is from the proceedings of the UDHEIT 2018 conference held in Dublin, Ireland, an open access publication.