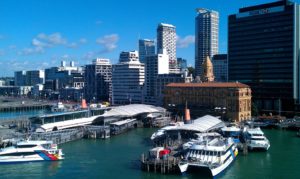 The Urban Design Toolkit is a practical manual explaining the what, the how and when of urban design processes. This New Zealand publication supports the implementation of their Urban Design Protocol. Each section is written in the same straightforward format with the same subheadings: What it is; What it's useful for; How it's done; followed by References. Some sections give examples as well.
The five key sections are Research and Analysis, Community Participation, Raising Awareness, Planning and Design, and Implementation. The Toolkit was originally published in 2006 and is now in its third edition. There is no specific mention of universal design in the Toolkit, but some elements are evident in the Urban Design Protocol: 
competitive places that thrive economically and facilitate creativity and innovation

liveable places that provide a choice of housing, work and lifestyle options

healthy environments that sustains people and nature

inclusive places that offer opportunities for all citizens

distinctive places that have a strong identity and sense of place

well-governed places that have a shared vision and sense of direction.
The first section begins with an accessibility audit, but it does not mention the inclusion of marginalised groups. However, if the principles of universal design are also considered within the framework of this Toolkit, it will add value to this excellent resource.
The Urban Design Toolkit is published by the New Zealand Ministry for the Environment, and is an online resource.