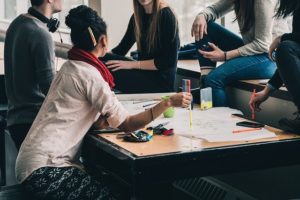 Who does the designing and what do they design? If the design works, users don't think about the designer. But when the design works poorly, or not at all, the designer becomes the focus. "What were they thinking?" is the catch-cry. In spite of much research and literature on designing thoughtfully and inclusively, we still have a long way to go. So who do designers design for?
A short paper takes a critical look at five design approaches from last century that remain current. The author discusses "Accessible" in terms of partial inclusion and design afterthoughts. "Inclusive/Universal Design" is discussed from the perspective of eliminating disability rather than embracing diversity. Six degrees of "User-Centred Design" is the focus of this design approach where users get a say in the design. An extension of user-centred design is "Participatory Design" which is also a learning experience for designers. Lastly, "Emancipatory Design" is praised for being empowering for people with disability.
The title of the short paper is, Design Methodologies and Ethos in Disability: Research Snapshot.
Editor's Note: The Universal Design movement is sometimes accused of wanting to design out disability. Perhaps this view can be traced back to the mistaken interpretation of universal as "one-size-fits-all". The concept of universal design in the context of the UN Convention of the Rights of Persons with Disabilities is very much one of inclusion, equity and acceptance of diversity. 
From the Introduction
The subject of design is one that dominates the disability literature. Throughout the past number of years, there has been a push among researchers and advocates to think critically about the ways in which design is executed and by whom. Design has taken on a central role in the 'normalization' of disability. Each of these design methodologies and ethos has had an essential impact on built and design environments; however, there is still a considerable need for progress. Importantly, these design methodologies and ethos bring to light the significance of understanding that in today's society, it is normative that environments and technologies are designed for people with disabilities, not by people with disabilities.