Steve's Story.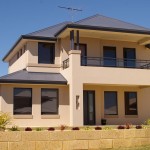 This is the fourth and last in the series of stories about wheelchair users building a new home. Steve is married with two children and tells his story about building a two storey project home. Similarly to George, he had to make compromises when the builder failed to deliver on promises. However, when allowed to speak directly with tradespeople, some of the problems were easily solved.
Download the synopsis of Steve's Story
I interviewed four wheelchair users who had recently built a home as part of my PhD research project. I was interested in the process and the interaction with house-building professionals.
Jane Bringolf, Website Editor