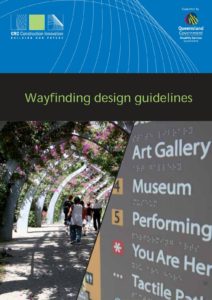 Wayfinding requires designers to organise and communicate the relationships of space in the environment. Basically, it is the naming and marking of places, identifying destinations, and providing directional information. The Cooperative Research Centre for Construction Innovation produced a comprehensive, if somewhat technical, set of wayfinding design guidelines.
The guidelines covers basic principles, and very detailed design solutions and strategies, covering topics such as arrival point, main entry, internal arrival point, graphic communication, restrooms and toilets, lifts, and signage design. Sign legibility, system design criteria, and viewing distance to signs are all covered, plus much more. Wayfinding is a key element of accessibility for everyone. Making signs and systems universally designed for everyone requires additional thought and planning. 
AS 1428.4.2 Wayfinding Standard, was published in 2018 by Standards Australia. 
Thinking cognition and signage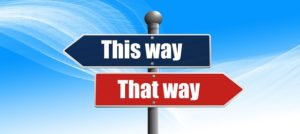 Signalling the right way to go has to account for cognitive abilities, visual acuity, and spatial awareness. As people age some of these abilities decline. Consequently, considering the needs of this group in wayfinding design will make wayfinding easier for everyone. 
Mishler and Neider have identified five key points and explain them in detail in their article. 
Distinctiveness: the information should have cues that are informative to the route and can be distinguished from the surroundings.
Consistency and standardisation: information overload can be avoided with the consistent placement, size, colour and shape of signage.
Simplicity: limiting each sign to three or four units of information, because people tend to glance rather than read, and avoid visual clutter.
Isolation: keep the signs away from other visual clutter to help focus attention in the right place.
Reassurance: letting people know they are still on the correct route especially if the destination is a long way from the directional sign.
The title of the article is, "Improving Wayfinding for Older Users with Selective Attention Deficits", in Ergonomics in Design. For a free read go to the article on ResearchGate.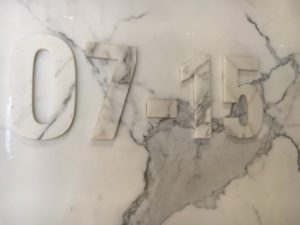 Editor's Note: I came across a designer who didn't want signage to interfere with the design and decided to minimise their impact. This picture shows how one designer thought that disguising signage was a good idea. Architectural wayfinding strategies minimise the need for lots of signs.