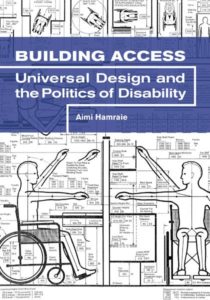 Book reviews can reveal good information in their own right. One such case is the review of Aimi Hamraie's book, Building Access: Universal Design and the Politics of Disability. The book traces the history of universal design from the 1950s in the United States to current ideas. Hamraie discusses the issues of the politics of disability from both design and disability perspectives.
Chapter 4 of the book discusses how the curb cut campaign in the USA became disability politics in action. Curb cuts cannot be considered universal design because they don't benefit everyone. They do not further the rights or inclusion of people with disability. However they became a sign that people with disability had rights that were being ignored.
This is an academic text of value to both design and disability studies.
Other articles about Hamraie posted previously are:
UD: Social justice or just marketing? 
The evolution of UD and accessibility